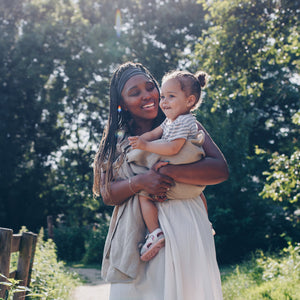 Artisan Clay Moon
Sale price Price €119,00 Regular price Unit price / per
Tax included.
Introducing our Artisan range, our strongest and most sustainable sling made from linen 100% produced just over the boarder in Belgium.
Moon ring slings are the quickest and simplest way to wear your little one. There are no buckles or complicated wrap manoeuvres, with a little practice you'll be able to quickly and safely position your baby in seconds. Both soft and secure, the 100% pure linen fabric is guaranteed to support your baby. 
Not just for newborns, ring slings can be used for front carrying your little one, as they get stronger you can switch to a hip carry, allowing them more freedom to see and explore the world with you and once able to sit strongly and independently you can even wear them on your back!  
One sling, multiple ways of wearing and guaranteed to be your favourite baby carrier for years to come. 
Textured Beige Masters of Linen®

 and matte gold rings

Suitable from newborn to 15kg

Size: 180 - 190

cm long

Fabric: 100% Masters of Linen®

Metal rings: Matte aluminium
About Masters of Linen 
Masters of Linen® is a registered mark. It is a sign of excellence for linen that is entirely made in Europe, from field to flax fiber, from yarn to linen fabric. The label is governed by the European Confederation of Linen and Hemp, uniting flax farmers, linen artisans and weavers.
If you'd like to learn how to get started with a Ring Sling check out our How To page
Colour might vary slightly from photo